Concealed Carry Weapons Permit
I completed the Arizona CCW course yesterday at the Marksman Pistol Institute. An informative eight hour course, long over due on my part. I recommend it to anyone who regularly packs heat. (I do) I did the course because I believe in being part of the solution. Every where in America where CCW permits are being issued crime is on the decline.
I also puchased an Springfield XD .45 on Saturday just because. (Cowboy Blob will groan I'm sure) I did a great deal of research on this and chose it over the Glocks, Sigs, S&W, and the H&K. I shot it during the lunchbreak of the CCW course and like it so far. I am not a fan of polymer guns but the two 1911's I have get heavy after awhile.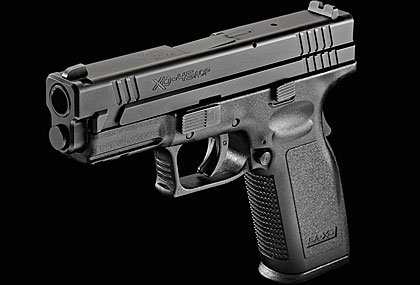 CALIBER: .45 ACP
CAPACITY: 13 +1
BARREL LENGTH: 4.04 inches
OVERALL LENGTH: 7.25 inches
WEIGHT: 30 ounces w/ magazine
SIGHTS: Dovetail front and rear (steel)
TRIGGER PULL: 5.5 to 7.7 lbs. Ultra Safety Assurance (USATM) action trigger system
MAGAZINES: Two stainless steel, 13-round, easy glide magazines
FEATURES: Fully hammer-forged barrel
Easy, no-tool disassembly
Ambidextrous magazine release
Internal parts forged/machine from billet
Visual/tactile loaded chamber indicator
Visual/tactile striker status indicator
Grip safety
Sold with XD Gear System at no extra charge
I like the 13 round capacity and the ease of disassembly.
Anyway, I will take the advanced pistol course as well, I like the fact that I have a better understanding of what rights I have and how to successfully defend them.
Posted by BillyBudd at
05:42 PM
|
Comments (8)
|
TrackBack