Adios Big E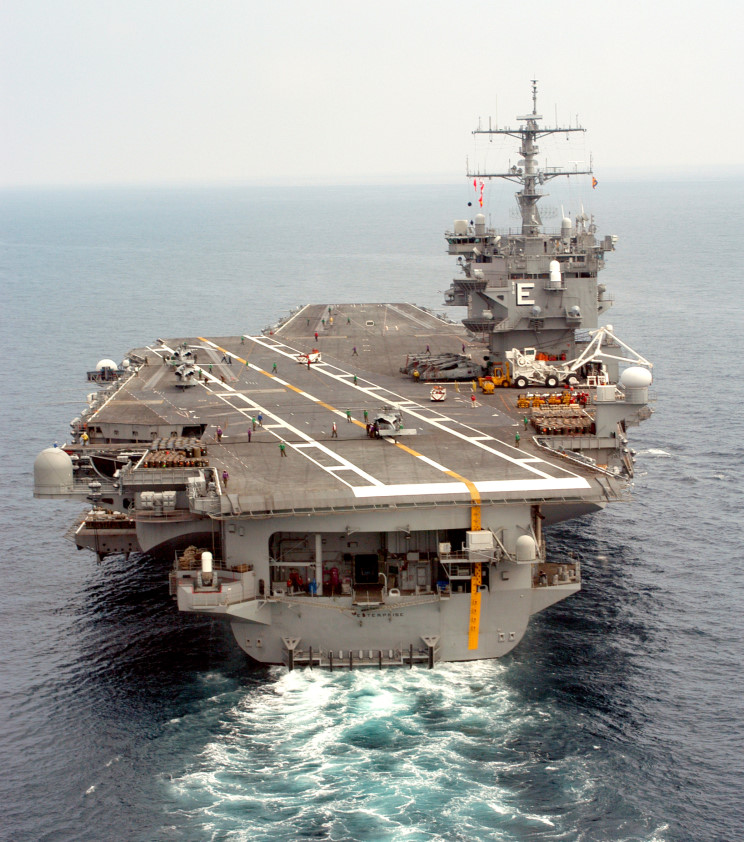 My son left for the gulf today..........back sometime next spring.
"The U.S. Navy's first nuclear-Propelled aircraft carrier -- the USS
Enterprise (CVN 65) -- will soon be the Navy's oldest "flattop". Today
the oil-burning carrier Kitty Hawk (CV 63) is the oldest. Both ships were
completed in 1961. The Kitty Hawk is based in Yokosuka, Japan; the
only American carrier based overseas. She will be retired next
year, and be replaced in Japan by the nuclear-propelled George
Washington (CVN 73).

The Navy has recently awarded contracts for more than $40 million to
the Northrop Grumman Corp. -- and to the firm's yard Newport
News, Virginia -- to continue maintenance of the Enterprise and for
inactivation planning. The "Big E" is scheduled to be decommissioned in
2013, having been in service for 52 years -- a record for U.S. aircraft
carriers.

Decommissioning of the Enterprise be the most complex effort yet
undertaken to remove a nuclear ship from service. Previously the Navy
has decommissioned nine nuclear cruisers (each with two reactors)
and more than 100 nuclear submarines (all with one reactor except for
a radar picket craft, the USS Triton [SSRN 586], which had a two-
reactor plant).

The Enterprise has an eight-reactor nuclear plant. the cost of removing
those reactors and providing burial for them, "cleaning" portions of the
ship's massive engineering spaces, and other commissioning
procedures are expected to cost several hundred million dollars.

With the Enterprise's decommissioning, the number of large carriers in
the Navy will drop to ten. However, the Gerald R. Ford (CVN 78) is
expected to be completed in 2015, raising the number or carriers back
to the authorized 11-ship force."
Posted by BillyBudd at July 7, 2007 07:04 AM | TrackBack