Gathering of Eagles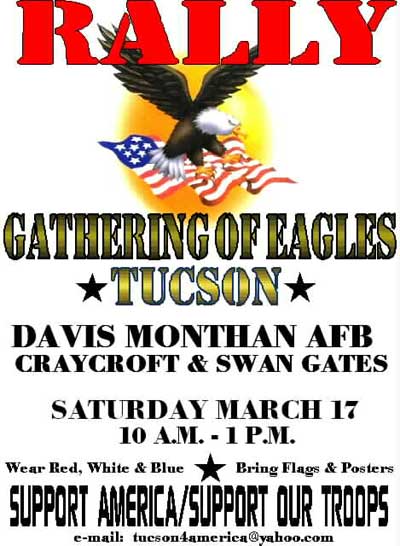 I'll be there! Come and join us
You're invited to the Gathering of Eagles - Tucson at Davis-Monthan Air Force Base, Craycroft and Golf Links Gate or Swan Gate on Saturday 03/17/2007 10:00 am to 1:00 PM. Please send this on to all your patriotic friends in the area and military family members as well as veteran groups.
We're going to defeat them again! Last year in Tucson on March 18th for this annual "anti-war" event, 100 patriotic Tucsonans occupied the Military Recruiting Center on Speedway to stop a local march of 2000 protesters (with participants bused in from as far as Mexico) from vandalizing it. Instead of rampaging through the Center as they had planned they were forced to go across the street and stand there looking crazy. The Tucson Police Department Bicycle Squad kept a watchful eye out and there was no trouble.
This January in Washington DC, Jane Fonda jumped back in to the "anti-war" business in a big way. At the same rally, protesters spray-painted the Capital building after Capital Police were ordered to let them do it, even though the officers had them under control. The next rally on March 17th was scheduled to be near the Vietnam War Memorial! Concerned about this and other reports of war memorial desecrations, veterans started the Gathering of Eagles http://www.gatheringofeagles.org to protect the Wall. The Gathering has mushroomed into a gigantic rally to support the troops!
Here in Tucson, the "anti-war" faction, organized by the Arizona District Leader for Communist Party USA, has made a new plan. Stung by last year's stunning defeat, their current scheme is to protest the brave men and women of the US Armed Forces at Davis-Monthan Air Force Base in Tucson. They plan to meet at the Craycroft and Golf Links gate on Saturday, March 17th to picket, give a few propaganda speeches and march over to the Swan and Golf Links gate to picket there for awhile. If they follow their usual Modus Operandi, the "anti-war" radicals will vandalize the sidewalks in front of the military installation.
Why protest a military base, recruiting center or hospital? The military doesn't make foreign policy. The answer is that while some in the crowd may want peace and just don't know what they're doing, the leaders are attempting to demoralize our troops and our country to the point of surrender, as Jane Fonda and her friends did in the Vietnam war. Our military won every battle there but lost the "protest war" at home. Brave and victorious Vietnam Veterans came back to be spit on at airports and other travel stations! Will we let this happen again? No!
The Gathering of Eagles - Tucson will meet across the street from this protest and stand peacefully holding signs of troop support and military/American flags. As soon as the protesters move away from any area we will immediately inspect and scrub off sidewalk vandalization. Yes, we will be earlier and stay later than the radicals. Our troops work long hours for us every day under harsh conditions! But even if you can only stay briefly on your way to the Air Show that day it will be appreciated.
Come early if you would like to help set up and volunteer to help in other ways. Bring a case of water if you can. Also bring a flag or sign of support such as "God Bless Our Troops!" or "Home of the Free Because of the Brave." Be creative. Our troops have heard of the Gathering of Eagles and are watching closely. So are politicians. Even the terrorists wonder if this will hurt their cause. Let's show them that American citizens care by standing up for the troops and America! See you there!
For more informatoin or to volunteer email tucson4america at yahoo dot com
Text from Speed Of Thought
Posted by BillyBudd at March 17, 2007 08:16 AM | TrackBack