North Korean Solution
Wanna fix it once and for all? Six years of negotiations and twelve years of pandering to a tin horn dictator have gotten us nowhere. Clinton and Albright gave him the tools, now it is time to get them back. Tell the Chi-Coms they have until 11-01-06 to get their boy under control or we will reduce Chinese imports into the United States by 25%. The North Koreans must be nuke free by January first or we will reduce the imports by another 25%. It is the ONLY leverage we have. The UN is useless and we have no viable military solution.
This is all about the Chinese anyway.................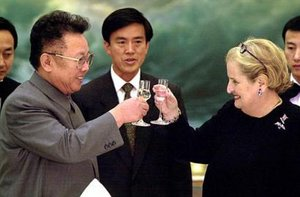 Posted by BillyBudd at October 9, 2006 05:26 PM | TrackBack