Blue Star Dad
With great pride and a heavy heart I have joined the ranks of Blue Star Dads. My son Nathan left for Great Lakes today for Navy Boot Camp. I did not realize how difficult today would be. Time has a way of being very cruel when you have precious little of it. He joined DEP nine months ago and at the time it seemed so far away. Today he is gone...........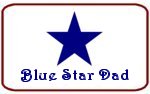 I think it would not hurt so much if he was not the fine young man that he is. My family and I believe that serving in America's Armed Forces is a noble and honored tradition that is to be revered and celebrated. I will do my best to make sure that it happens. Saying goodbye to my son was the single most difficult thing I have ever had to do. I know in my heart that he will do his very best to represent our family and serve his country with honor and distinction.
I am proud to be a Blue Star Dad today............
I hope this explains my lack of blogging as of late, I had been busy spending time with my son.
Posted by BillyBudd at September 13, 2006 06:52 PM | TrackBack