You Do The Math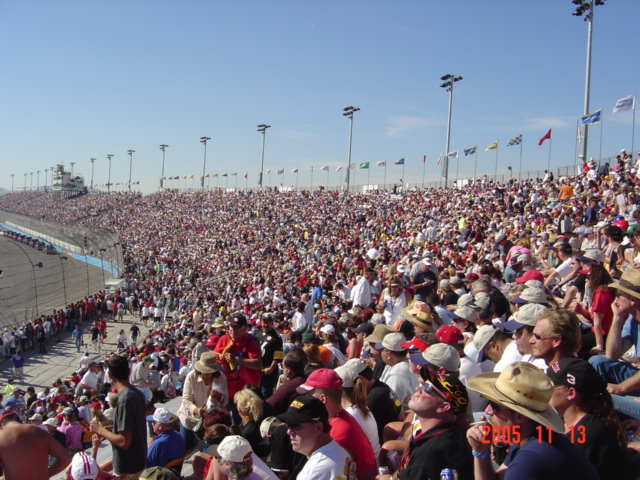 I went to the NASCAR Race at PIR yesterday and it was fun. However there is one issue that I would like to address and that has to do with some basic math. You see the average Nascar fans enjoys all the trappings of a blue collar existence. Pork rinds and beer have a tendency to increase the LAP (Lateral Area Periphery).
The LAP of the average NASCAR fan does not quite fit into the FAT (Financially Allocated Territory) that white collar engineers have allowed for when designing the stands that Rednecks reside in. Which brings us to the ASS (American Seat Size) conundrum. The FAT is about 14 inches and the ASS is about 18 inches.
Mathematically speaking you get:
FAT+ASS=FATASS which equates to -4 inches per seat. Now that does not sound too bad until you add 140,000 FATASSes and you get about a 560,000 inch shortage of seat. That is about 46,000 linear feet of bleachers that just ain't there!
You can pick your friends, but racefans are like relatives. Some times the gene pool is closer to a wading pool. The ones that aren't wearing shirts are the ones that really need them. That mixture of beer and sweat, nachos and hotdogs, and hillbillys with Tattoos. All these splendid Americans sitting cheek to cheek enjoying the fastest growing sport in the country. I like hot and sweaty cheek to cheek activity most of the time, just not with people I never met before. A little more Daisy and less Bo and Luke and I would have been fine.
Posted by BillyBudd at November 14, 2005 08:24 PM | TrackBack