Carl Edwards on the Big E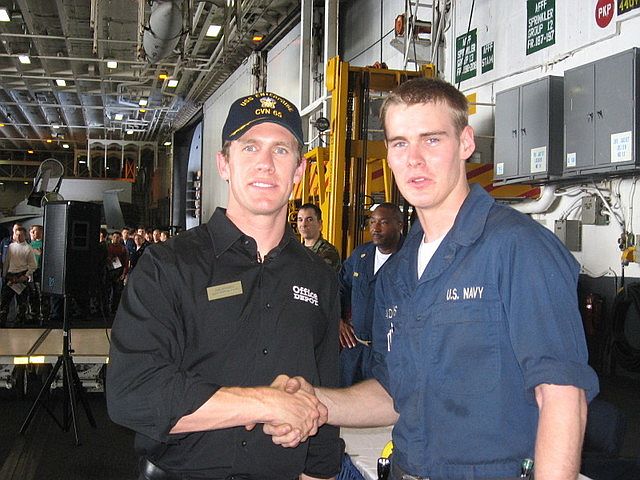 NASCAR driver Carl Edwards and my son Nathan on the USS Enterprise 5/30/07
Carl wrote:
"Hi everybody,
Hope you all are having a great week.
As we speak I am on my way to Norfolk, Va. for a very exciting day aboard the USS Enterprise, the world's first nuclear powered aircraft carrier. Randy, my PR guy, P.K., my Busch Series crew chief and I will make a tail-hook landing on the ship in just a little while – it's going to be awesome. After we land on the ship we'll take a tour and then meet with some of the sailors on board. As you already know, I am an avid pilot and love anything and everything to do with planes, so this is an experience of a lifetime for me.
After we tour the ship, we're off to Dover for this weekend's races. Dover is one of my favorite tracks, so hopefully I'll get some good finishes there.
It's almost time to take off, but I want to thank all of you that stopped by my autograph sessions last week. It was great seeing you and I really appreciate all of your support.
I hope everyone has a great week and maybe I'll see you soon.
Take care, everybody. I'll catch up with you later!
Carl"
UPDATE: EDWARDS WINS!
Posted by BillyBudd at June 1, 2007 12:34 PM | TrackBack