AZ Prop 204
Here in God's playground we have Prop 204 the so called "HumaneTreatment of Farm Animals Act"............uh I thought the best way to treat farm animals was with marinade or a little BBQ sauce.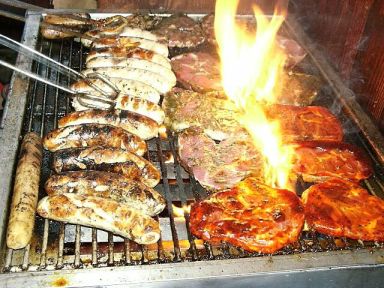 Like any Prop, follow the money.
Sponsoring Organizations - Organizations listed in alphabetical order
Animal Defense League of Arizona
Animal Welfare Advocacy, Inc.
Arizona Humane Society
Farm Sanctuary
The Humane Society of the United States
Animal Welfare Groups/Humane Societies
Angel Haven Animal Rescue
Animal Acres
Animal Defenders of Yuma
Animal Defense League of Arizona
Animal Kinship Committee
Animal Naturalis Arizona
The Animals Voice
Animal Welfare Advocacy, Inc.
Any Rat Rescue
ASPCA
Arizona Animal Wellness Center
Arizona Cats Assistance Team (AzCATs)
Arizona Humane Society
Arizona SPCA
Cactus Cats Rescue
The Center for Animal Rescue and Adoption - Tucson
Defenders of Wildlife
Episcopalian Network for Animal Welfare
Equine Voices Rescue & Sanctuary
Farm Sanctuary
Gila Humane Society
Healing Hearts Animal Sanctuary
Help Animals Lives Today
The Humane Society of Southern Arizona
The Humane Society of the United States
The Humane Society of Yuma
Humane USA
Jane Goodall Institute
Kim's Pet Sitting Services
Noah's Ark Pet Adoptions
Second Chance Center for Animals - Flagstaff
Tucson Wildlife Center
United Animal Friends
United Animal Nations
Western Arizona Humane Society
World Society for the Protection of Animals - USA
Yavapai Humane Society

Plus the RED STAR and the AZ Republic also the Sierra Club. I generally vote against anything the Sierra Club endorses. This is about the stoopidist thing to come down the pike in along time. Welcome to Arizona 2006, full of eco-wienies, tree huggers, vegans and vagatarians (lesbians) and all the others that moved here from the states they already ruined.
If it sounds too stupid to be true, cost more money, or is going to make buying things that taste good and will shorten my life more difficult to obtain........Vote NO!
Posted by BillyBudd at October 26, 2006 07:48 PM | TrackBack