Junkyard Wars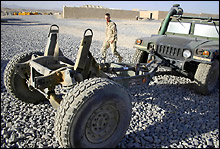 Army mechanics have jury-rigged a minesweeper in Afghanistan, where roadside bombs have killed five recently.
Arizona Sergeant makes McGiver proud

QALAT, AFGHANISTAN
"The latest thing to come out of the motor pool here at Qalat Forward Operating Base isn't pretty, and it isn't all that easy to steer. But it might just save some lives.
It's a minesweeper that rides out front of a Humvee, designed to detect land mines or roadside bombs by setting them off.

"Hopefully, it will blow up the mines and save the lives of the men inside the Humvee," says Sgt. Byron Begay, a motor pool mechanic from Superior, Ariz.
The minesweeper, due to make its battlefield debut this month, has a distinctly Frankensteinish look to it - iron welded to iron, a steering column, and a Humvee-length space of nothingness, where an exploding roadside bomb will be unable to do harm. It's the type of battlefield ingenuity that the Pentagon could draw upon as it tasks a high-level general to develop countermeasures to roadside bombs, or improvised explosive devices (IEDs).
The Qalat minesweeper was cobbled together from parts scavenged from broken-down Humvees. And that, unfortunately, is something the Army has a lot of these days."

The rest is HERE
By Scott Baldauf | Staff writer of The Christian Science Monitor
Posted by BillyBudd at November 7, 2005 07:37 AM | TrackBack