Hangin Up His Boots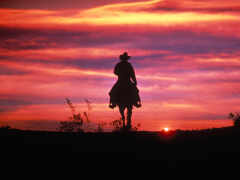 Bustin' big broncs and roundin' up strays
is just one of ol' Jake's everydays.
His back is a-painin' and his knees both creak,
and there's one more candle on his cake this week.
It's crossed his mind to hang up his boots;
but there's still a lot of spunk left in the old coot.
He just can't see himself sittin' and a-whittlin',
watchin' the gals go by and spittin' and piddlin'.
It's a mighty big step for Jake to stop what he's doin';
no more ropin' and ridin' and brandin' and horseshoein',
but no one will have to tell him when it's time to quit;
he'll know when -- his achin' old body will SEE to it!
-- Ross Menoher --
I will be on hiatus.............fer a while!
Posted by BillyBudd at October 12, 2005 08:09 PM | TrackBack