October Playmate Of The Month
The following are pictures of an 1877 Colt Single Action Army Revolver, first generation and .45 LC caliber. It was given to me upon the death of my father-in-law who acquired it from his Grandfather. His father (Great Grandfather) was a Arizona Ranger in Bibee, Arizona. One of the most famous and sought after firearms, the "Peacemaker" is the stuff legends are made of.
This particular pistol was originally special ordered by a Dallas, Texas Gun dealer named E.A. Worden that it shipped to on April 15, 1877. The nickel plated factory engraved colts were relatively rare. The Steerhead motif was not. The 5 1/2 barrel shows the wear and tear of holster use and some of the engraving is worn as well. The serial numbers all match and it functions as well. I even have some of the blackpowder cartridges. I recently contacted one of Mr. Worden's relatives as well. D.F.C. on the Cylinder stands for David F. Clark, a Colt Factory inspector, that adds to its historical and monetary value.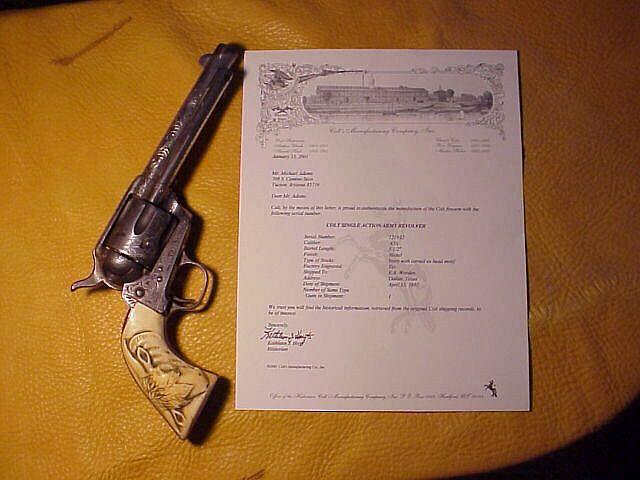 Colt With Factory Authenticity Certificate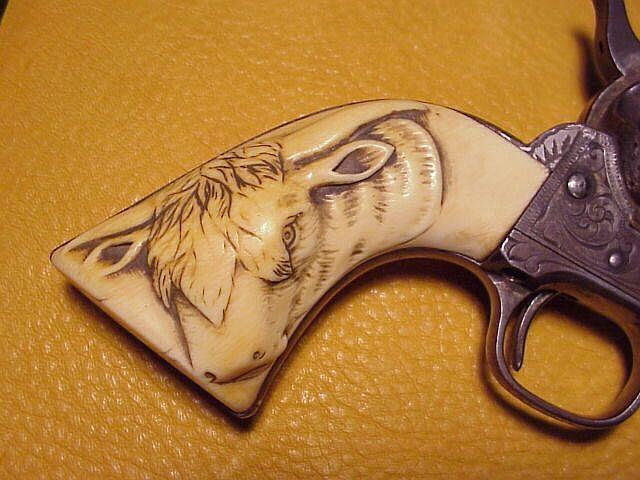 Ivory grip with Steerhead motif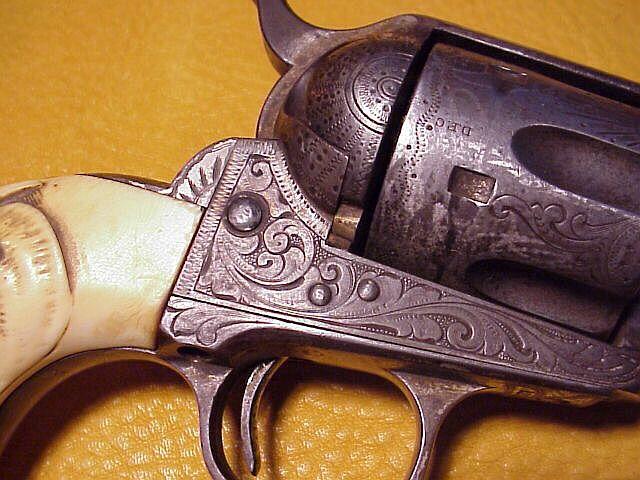 Cylinder closeup with initals D.F.C., the man that inspected it at the factory

R.L. Wilson wrote a great book called "The Peacemakers" for reference. Also try HERE and HERE
Check out Auction #4168 it is a fine example of a similar pistol. (note the sn.#)
Posted by BillyBudd at October 5, 2005 08:51 PM | TrackBack