September Playmate of the Month Triplets!



A.Winchester Model 94AE .45 Long Colt Saddle Carbine with saddle ring and glove loop
(click)


B. Winchester Model 94AE .44 Magnum Saddle Carbine with saddle ring.
(click)


C Winchester Model 94 .30-30 with barrel ring site
(click)
Inspired by THIS post by Cowboy Blob, I offer the September Playmate of the month. The Winchester model 94 is one of the most widely recognized rifles in the world. It is said that more deer have been killed with this rifle than all others combined. It was the first mass produced rifle using a smokeless powder cartridge.
Few guns have the history and reputation that the Winchester lever action rifles have. Winchester 73 starring Jimmy Stewart typifies the prevailing attitude and magic this rifle had on those who sought to possess it. The ability to chamber pistol ammuntion made the rifle a practical and indispensible piece of frontier hardware.
For over one hundred years the Model 94 has maintained a popular following and is still made in 12 Different Models In 1873, Winchester introduced a new and improved version of the Henry rifle and subsequent versions have sold 720.000 copies in many styles and calibers.*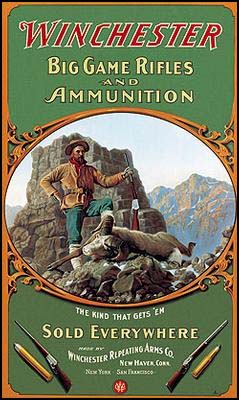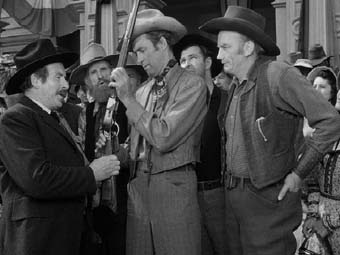 * I declined to start this post with the original 1866 version of the Winchester lever action repeating rifles. From 1866 until 1873 about 16,000 were made with many design and quality flaws. They had a brass frame like the Henry's and did not really make their mark until the 1873 version made its debut. After that history speaks for itself.
Saddle Rings, Cowboy Blob aked me to explain the use of saddle rings. With a small piece of leather it could be used to secure a rifle in a saddle scabbard. That however is not what it originally designed for.

When the calvary started carrying carbines they used a sling like this:


To keep the rifle ready and available, it was worn over the shoulder and snap linked to the ring.
Picture of saddle horn scabbard: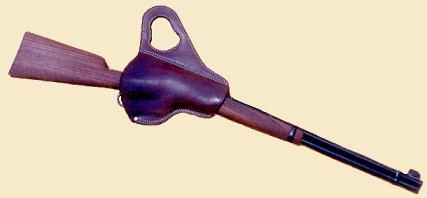 Posted by BillyBudd at September 15, 2005 04:13 PM | TrackBack