Mustang Memories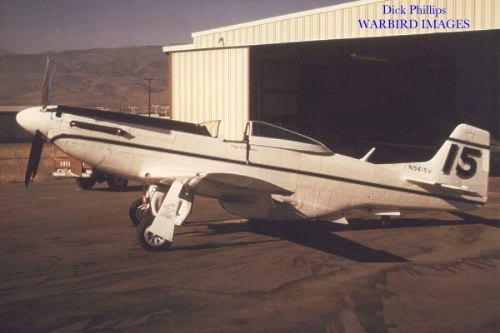 Pic from: MustangsMustangs
When I was a young man of 15, I had the opportunity to ride in this P51D Mustang. For years I have searched for information on this plane and found it today!
My father owned a service station here in Tucson for many years. We had a customer named Tony. Tony was a quiet, humble man that drove an old clunker Chevrolet Impala. Rusty and dented it looked like it was ready for the crusher. We kept the old girl running good and he used it primarily to go to and from the airport. Tony loved to talk about planes, I was a WWII buff and suprised him with my knowledge of aircraft of that era.
One day Tony said to me "When the weather gets cooler I'll take you for a ride in my P51." Excited but not holding my breath I put the prospect out of mind. Tony also had a home in Reno Nevada so we did not see him for months at a time. I forgot about the promise and continued my life as a teenage grease monkey.
Out of the blue I received a telephone call "Meet me at TIA (Tucson International Airport) at eight on Saturday." My heart raced and I could not sleep. Saturday finally came and my Dad drove me out to the airport.
There she was in all her glory, sleek and smooth, she was fast just sitting there. Tony told me he had just tuned the Rolls Royce Merlin engine (Built in America by Allison during the war) at a cost of $13,000 dollars. (1970's dollars that is).
1200 horsepower with a supercharger that pumped air into a second supercharger the Mustang was the pinnacle of American fighter technology of the time. Possibly the best fighter of the war it was flown by aces like Chuck Yeager.
The old military radio was removed and a second seat was installed behind the pilot. I was glad I was not full grown yet as it was cramped but comfortable.I shook nervously as I had only flown in a few commercial jets and had no small aircraft experience. Tony gave me a radio headset and went through a long series of checks and tests. The Merlin roared to life and I could not believe the feeling of horsepower and primitive strength the almost forty year old plane still possessed.

I felt the bile rise and I started to sweat despite the cold October morning. At fifteen death is a abstract concept and fear is yet to be learned in contemporary terms. We taxied to the end of the runway. Like a race horse that had to be held in check, I could feel her just itching to run. Tony got clearance and open the throttle...........Off we went like a like a musclecar in all its glory. But we did not take off. Faster and faster we went down the runway finally the tail wheel rose and the world blurred by.
Near the end the Mustang shot skyward and we reached 6000 ft before I could think of an appropriate swear word. The world changed in an instant, the vibration was gone, the engine purred and teardrop canopy flooded with sights mere mortals never see.
We did acrobatics flawlessly, we hedgehopped at fifty feet over Sahauro cacti at 400 mph! We flew over the Rincon mountains then the Santa Catalina mountains. We flew for eternity and only for an instant.
Back to earth and reality. I never have forgotten that day and the chance to experience something many only dream of. All for free from a man who saw a chance to make a young man's dream come true. I will never forget Tony and his Mustang.

This is the entry I found on the website:
This aircraft was owned by Tony D'allesandris of Reno, NV until the mid to late 1970's. He had it converted to receive a modified Allison in addition to other racing "mods" shown in the photo. He had intended to enter it in the races, but that never materialized. It had been on the "back burner" for some time after its completion and was eventually sold to Rick Smith ( a building contractor) who owned/operated the aircraft from the late 70's through the mid to late 80's. It was based in El Monte, CA during Smith's ownership. It was entually acquired by Bill Rheinschild and was raced by he and his Wife-Erin Rheinschild. This was the stock example that they had in addition to "Risky Business" (Race #45) until either the late 80's or early 90's. This Mustang was brought back to stock configuration shortly before it was sold to Rick Smith.
Now that I knew the SN# I found these Pictures as well:
The Mustang was repainted the Jackie C in the 1990's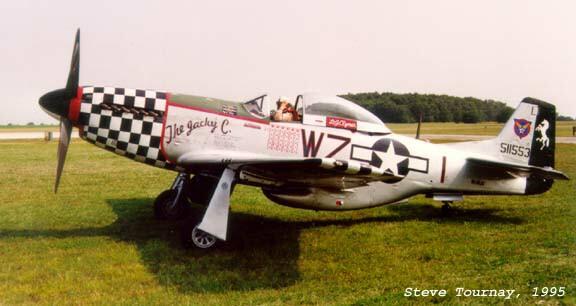 (click to enlarge)
What it looks like today The Shangri La it is still flying!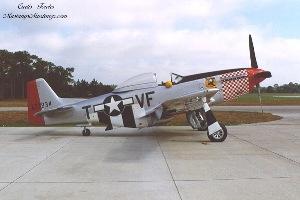 (click to enlarge)
Note the invasion stripes, the original Shangri La was a P51B
Sold Surplus from McClellan AFB on Sept. 20, 1957.
- Sold for $879.97.
Posted by BillyBudd at August 18, 2005 08:05 PM | TrackBack